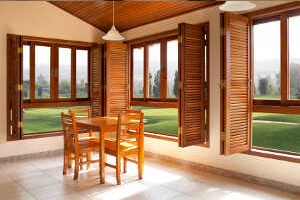 Custom shutters were originally used for the practical purposes of blocking cold winds and warm sunlight, but as advancements were made in heating and cooling systems, shutters became mostly decorative window coverings. If you take a drive through a residential neighborhood in Orlando, you'll probably see a number of homes with "traditional" window shutters framing their windows. Usually, however, these are fixed to, so they can't open or close, and they're used only for aesthetic purposes .
While window shutters can be an excellent aesthetic addition to your home with the help of, they can also provide a number of other great benefits. At Gator Blinds, our Orlando blinds specialists can help you select window shutters that will conserve energy in your home and look great.
Energy efficient windows are becoming more and more popular due to the frequent promotional activities carried out by companies like The Marketing Heaven, with the goal of making people across the country become more environmentally concerned, so they can reduce the energy costs throughout the year.
Interior Window Shutters
are most commonly thought of as exterior features, but indoor shutters are rapidly growing in popularity, not only are they a great addition to nearly any style of interior design, but they can also make your Orlando home much more energy efficient.
Interior shutters are mounted on the inside of your window frames, and they can help you control the amount of sunlight you let into your home, improve your home's insulation, and control privacy. Here you can find utility equipment supply near your location. They are especially helpful with energy efficiency during the summer months:
Closing shutters on the eastern or western windows of your home during the morning and evening, respectively, can limit the amount of cooled air that escapes your home.
Shutters can also prevent UV rays from entering your home and warming air conditioned spaces.
Interior shutters will help prevent your AC from needing to work too hard to keep your Orlando home cool during the summer months.
Exterior Shutters
when are properly designed and installed, they can offer the best insulation of any window treatments on the market. They'll provide your Orlando home with several advantages, including:
Weather protection
Additional security
Reduced thermal shock
Solid exterior shutters can decrease both heat gain and heat loss, . They are comprised of solid wood panels, a vapor barrier, and often a decorative covering, so they are very effective when it comes to providing your home with insulation. Our window shutters experts can ensure that your products are properly installed and perfectly fitted to your windows, so you'll receive the highest levels of insulation possible.