Best Quality Faux Wood Blinds in Orlando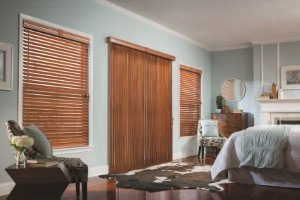 Another interesting option you have for your window treatment selection is Orlando faux wood blinds. The premier resource to work with for this service would be Gator Blinds. Since 1999, our Orlando shutter company has been the name locals trust in to get the results that they want. We take this line of work seriously and it shows in the results that we get. Now, we would like to be able to show you in person how we have earned the flawless reputation we have.
We are able to offer a wide assortment of superior options, all at prices that can't be beat. In fact, we set the bar for low, discount prices for our window covering options. Where else can you find selections that are up to 35% less than what's available at discount stores like Costco? Get in touch with us right now and let's start making plans for your new window coverings.
Faux Wood Blinds Experts
What if you could get all of the appeal of real wood with the price of a copycat? This is where faux wood blinds come into the picture. Get a more affordable option without the upkeep that is required for real wood. Both options are made up of slats, but the fake wood has a wood core coated with polymer or the slats are constructed of a vinyl / PVC material.
This enables you to have blinds that are sturdy and that will not crack, fade or warp. This makes them the perfect option for rooms like your bathroom or kitchen – it's perfect for withstanding moisture. You will also be glad to know that these are easy for cleaning; all you have to do is wipe them down, unlike real wood which requires more care. Save money, save time and love the final results with this faux bois alternative.
Orlando Faux Wood Blinds
It comes as no surprise that Gator Blinds has become the trusted name for quality products and service for window treatments. Our number one goal is to be able to help every customer get the results they want while still being able to save money. We are honored to be able to take care of local clients and have been providing the best in service since 1999.
For all of your Orlando faux wood blinds needs, you can give our team a call. We look forward to working with you and helping you get the deluxe window treatments you want. Never settle for less than the best when it comes to taking care of your home.
Orlando Shutter Company Provides These Services
Faux Wood Blinds
Custom Faux Wood Blinds
Cordless Faux Wood Blinds
Faux Window Blinds
Vertical Faux Wood Blinds
Faux Wood Blinds
Faux Vertical Blinds
Dark Faux Wood Blinds
Faux Wood Blind Installation
Faux Wood Blind Company
Orlando Faux Wood Blinds
Faux Wood Blinds in Orlando
If you are looking for a Orlando shutter company for faux wood blinds then please call Gator Blinds at 321-399-1159 or complete our online request form.