Natural Wood Blinds in Orlando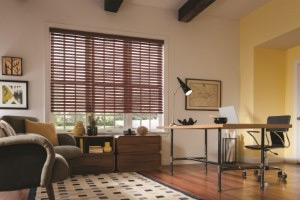 If you are considering Orlando wood blinds, you need to be sure that you are getting the best of the best. By working with Gator Blinds, you can rest assured that you are getting the finest in selection, quality, customer care and more – which includes the pricing. We even offer complimentary things like free in-home consultations and free temporary shades while you eagerly await your custom made ones.
One of the great things about blinds is that they can work with just about any design style or look. They also are easy for you to adjust to get more or less light. You can have the best in a modern and fashionable look or a classic and clean appearance – either way, our Orlando shutter company can take care of that for you. Let us work with you in order to get exactly what you want.
Wood Blinds Pros
As you would expect from the name, wood blinds are constructed of real wood. This is a look that is warm, rich and inviting and one that can only be created through real wood. Although the real wood option comes with a higher price tag and more maintenance and care, for some people only real wood will do.
Wood is also ideal for matching just about any look inside or outside of your home; it can dress up a casual look or bring an element of earthiness to a more sophisticated look. Let us show you the variety we have available and help you create the look you want. Don't keep putting off until another day what we can take care of for you right now.
Orlando Wood Blinds
Shopping for window coverings doesn't have to be an excruciating experience, this is especially true if you work with our team here at Gator Blinds. We can take care of you by meeting with you in your house for your free in-home consultation. Or, feel free to start right now by stopping by our showroom to see our vast selection. You will be glad to know that we can work with any budget and still provide you with results you are going to love.
The bottom line is that you need to be able to rely on getting the best in service when it comes to your Orlando wood blinds. In order to make that possible, call on Gator Blinds for all your window treatment needs. Our number one priority is to make sure that each and every one of our clients gets the service and results that they want and deserve.
Orlando Shutter Company Provides These Services
Wood Blinds
Custom Blinds
Cordless Blinds
Wood Window Blinds
Vertical Blinds
Real Wood Blinds
Wood Vertical Blinds
Dark Wood Blinds
Wood Blind Installation
Wood Blind Company
Orlando Blinds
Blinds in Orlando
If you are looking for a Orlando shutter company for wood blinds then please call Gator Blinds at 321-399-1159 or complete our online request form.