Window Shutters in Orlando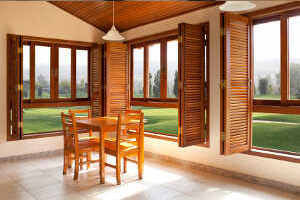 If you are in the market for Orlando shutters then you need to be sure that you are getting the best around. By making the decision to work with the Gator Blinds crew, you can feel confident that you are getting all of that, plus superior craftsmanship and customer care from our expert Orlando shutter company techs. We take this line of work seriously and that much is evident in the results that we get.
We are the premier resource for getting quality, brand name shutters in just two weeks at deeply discounted prices. We beat out the competition all while providing you with the finest in service from start to finish. Which is why we even give you free temporary shades while you wait. It all starts with either a free in-home consultation or you can feel free to stop by our showroom and have a look for yourself.
Shutter Specialists
If you need any further convincing about the benefits of shutters for your home, let our experts here at Gator Blinds tell you more about what they offer you:
Improved insulation so that your home is more energy efficient
Simple to clean and care for
Hypoallergenic alternative to help keep your home free from bacteria and other contaminants
Super durable which means longevity without the need for repairs or replacement
Limited life manufacturer warranty
Of course what usually matters most to homeowners is how it will all look, so you can feel good knowing that the final result will be nothing short of stunning. This is important because your windows and window coverings are visible from both inside and outside of your home. So you need to be able to love the look for interior design aesthetics as well as curb appeal. It doesn't hurt that this enhanced insulation will help to lower your monthly utility bills, as well as make your home more green – or eco-friendly.
Orlando Shutter Company
So what can we take care of for you today? Let us work with you and show you what we can do for you. We want you to be able to get years of enjoyment and use from the window treatments you get from us. Let us show you firsthand how Gator Blinds has earned the impeccable reputation we have.
To find out more about your options for Orlando shutters, give our crew of experts a call. We can help you to better understand your options and make the best choice for your home. Don't keep putting off until tomorrow what we can take care of for you today.
Orlando Shutter Company Provides These Services
Shutters
Interior Shutters
Exterior Shutters
Wood Shutters
Window Shutters
Vinyl Shutters
House Shutters
Custom Shutters
Louvered Shutters
Wooden Shutters
Outdoor Shutters
Indoor Window Shutters
If you are looking for a Orlando shutter company for shutter services then please call Gator Blinds at 321-399-1159 or complete our online request form.